The highest passes of the Giant Mountains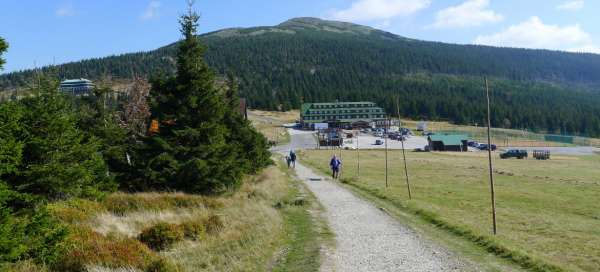 Despite the fact that the Krkonoše Mountains are a relatively short mountain range, the complete ridge is only about 50 kilometers long, you will find several important mountain saddles here, both from a tourist point of view and from a traffic point of view.
The way between Lucni and Studnicni moun
|
Altitude: 1 510 m / 4 954 ft
Modré sedlo ("Blue pass"; 1 510 m asl) is the highest mountain pass in the Czech Republic. It lies between… continue reading
The most crowded place thoughout Giant M
|
Altitude: 1 390 m / 4 560 ft
Obří sedlo ("Giant pass"; 1 390 m asl) is situated to the west of the highest Czech mountain – Sněžka. It is… continue reading
Crossroads under Smělec
Altitude: 1 355 m / 4 446 ft
Now you will descend to a shallow saddle between the daredevil and Mužské kameny, where this stage ends. The… continue reading
Bus stop
|
Altitude: 1 198 m / 3 930 ft
Slezské sedlo ("Silesian pass"; 200 m asl) located below the mountain Malý Šišák  (1 439 m asl) is an… continue reading
Road pass between Poland and the Czech Republic
Altitude: 1 050 m / 3 445 ft
Pomezní budy (1,050m) is one of the most famous starting points to the Eastern Giant Mountains. At the same… continue reading
Applaud the author of the article!
Articles nearby