The best of Kashan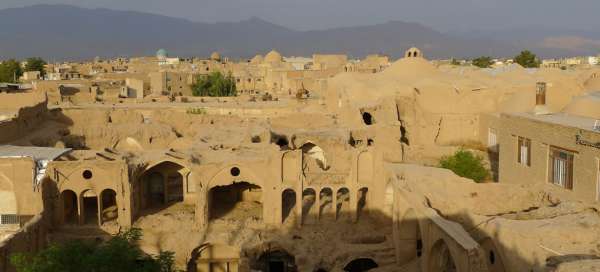 Kashan is a famous historical city located only 250 kilometers from Tehran (on a good highway). Kashan is known for its sprawling old town, exhibition palaces and most importantly its famous bazaar. Let's take a look at the most famous and beautiful monuments of Kashan.
The most important mosque in Kashan
Altitude: 941 m / 3 087 ft
One of the most important monuments of the city of Kashan, which is definitely worth a trip, is the beautiful… continue reading
The most beautiful palace in Kashan
Altitude: 947 m / 3 107 ft
Borujerdi Palace is one of the best-known and best-preserved monuments in Kashan. It is a house that was… continue reading
Beautiful Persian bazaar
Altitude: 940 m / 3 084 ft
The bazaar in Kashan is one of the biggest attractions of the city. It is very vast, so you will spend a lot… continue reading
A luxurious palace in Kashan
Altitude: 945 m / 3 100 ft
Among the frequently visited monuments in the city of Kashan are also the local exhibition palaces, which… continue reading
Tomb of a famous poet
Altitude: 1 578 m / 5 177 ft
Among the monuments in the ruins of the old city, Mohtasham's tomb, which was built in memory of the famous… continue reading
Applaud the author of the article!
Articles nearby