The best of Verona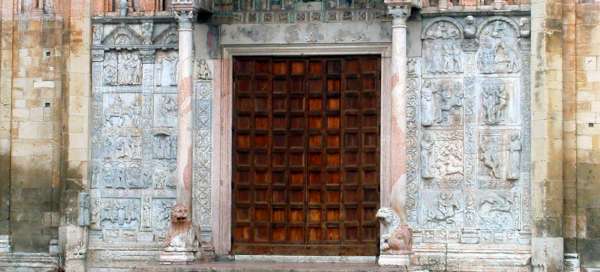 One of the very nice cities of Northern Italy is Verona. It has a picturesque location, thanks to the river Adige, which flows around its historic center. Here you will find a number of beautiful sights such as picturesque squares and magnificent churches. The main attraction of the city, however, is the Roman theater, the third largest in the world. Let's take a look at the most beautiful sights of Verona.
Verona's most famous monument
Altitude: 61 m / 200 ft
Right in the middle of Verona's historic center – in Piazza Bra stands the wonderfully preserved Roman Arena,… continue reading
Beautiful square in Verona
Altitude: 61 m / 200 ft
Just a short distance from Julia's house is the Piazza delle Erbe with its market square surrounded by… continue reading
The famous castle in Verona
Altitude: 61 m / 200 ft
Castel Vecchio is a remnant of the medieval fortifications of Verona and a fine example of Gothic… continue reading
The most important church in Verona
Altitude: 59 m / 194 ft
Cathedral of Santa Maria Matricolare built in Romanesque style after the 1117 earthquake. continue reading
Tomb of Saint Zeno
Altitude: 63 m / 207 ft
At the western end of the historic center of Verona you will find the beautiful Romanesque church of San Zeno… continue reading
Historic bridge in Verona
Altitude: 56 m / 184 ft
You can cross the Adige River via the beautiful historic Ponte Pietra bridge. continue reading
Picturesque square in Verona
Altitude: 58 m / 190 ft
Just a few meters away from the famous Piazza delle Erbe, there is another picturesque square – Piazza dei… continue reading
A beautiful fountain in the center of Verona
Altitude: 61 m / 200 ft
Piazza delle Erbe is also home to the famous Madonna di Veronas fountain with a beautiful Roman statue. continue reading
A monument to the tragedy of Romeo and Juliet
Altitude: 60 m / 197 ft
In Verona, you will also come across one special attraction: Juliet's house with a balcony from the world… continue reading
Applaud the author of the article!
Articles nearby