The best of Nepal's lakes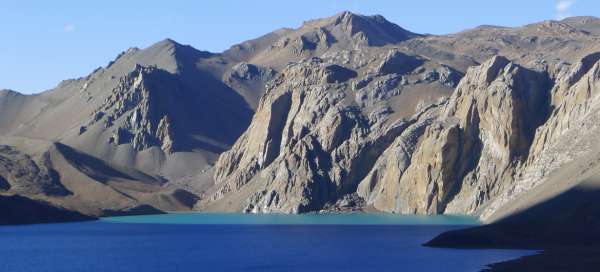 As a country covered by high mountains, Nepal offers a lot of beautiful glacial lakes. The most famous of these high-altitude lakes is Tilicho, located just a short distance from Annapurna. However, the most important lake of the country is Phewa located right next to the tourist center of the country, Pokhara. Let's take a look at the lakes that are definitely worth visiting in Nepal.
The most beautiful Nepalese lake
|
Altitude: 3 620 m / 11 877 ft
Lake Phoksundo, located in the Shey Phoksundo National Park, is considered to be the most beautiful Nepalese… continue reading
Lake in the shadow of Himalayas
|
Altitude: 4 916 m / 16 129 ft
If you walk away from the main circuit of the trek around Annapurnas and come to this magical lake, you will… continue reading
Lake with stunning views of Annapurna
|
Altitude: 4 618 m / 15 151 ft
Lake Kicho tal is one of the most beautiful places you can visit on the trek around Annapuren. However, since… continue reading
Mirror for Annapurnas
|
Altitude: 800 m / 2 625 ft
The most famous Nepalese lake Phewa, on whose shore lies the tourist town of Pokhara, is famous for the… continue reading
Emerald diamond
|
Altitude: 4 750 m / 15 584 ft
Lake Dudh Pokhari (4 750 m asl) lying just below the lodges in Gokyo is a favorite destination for walks and… continue reading
Remnant of the glacier below Manang
|
Altitude: 3 525 m / 11 565 ft
One of the attractions in Manang lying just below the town is a small lake Gangapurna tal, which is situated… continue reading
The lake under the monumental wall
|
Altitude: 4 520 m / 14 829 ft
Lake Chola Tsho (4,510 m above sea level) can be seen by most tourists only from the road leading high above… continue reading
Applaud the author of the article!
Articles nearby