The most beautiful cities of Spain
The best of the cities of Spain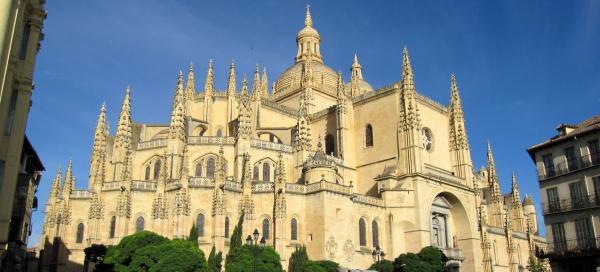 Every traveler who is visiting Spain not only for the beaches but also for the sightseeing is fascinated by the historic cities. You will find monumental cathedrals, huge castles and fortifications, and picturesque squares. Getting to know the Spanish cities is definitely worth it!
Capital of Catalonia
Barcelona is Spain's second largest city after Madrid and one of the country's major tourist pulls. You will… continue reading
University town
|
Altitude: 807 m / 2 648 ft
Salamanca is remarkable from a distance thanks to its mighty cathedral overlooking all the other buildings in… continue reading
The most beautiful city of Andalusia
|
Altitude: 700 m / 2 297 ft
The beautiful city of Granada, located below the Sierra Nevada Mountains, is one of the most visited places… continue reading
Pearl of Andalusia
|
Altitude: 100 m / 328 ft
Cordoba belongs to the three most visited cities of Andalusia. You will find here a beautiful cathedral… continue reading
The largest city in Andalusia
Seville is the capital of Andalusia with more than a million inhabitants. Together with Cordoba and Granada,… continue reading
City with an amazing aqueduct
|
Altitude: 988 m / 3 241 ft
Segovia is famous for its amazing Roman aqueduct. There is a beautiful castle, a cathedral and a nice streets… continue reading
The capital of Spain
|
Altitude: 648 m / 2 126 ft
Practically right in the middle of the country, on the plateau, lies Madrid. Spain's largest city and one of… continue reading
The most beautiful city of Extremadura
|
Altitude: 446 m / 1 463 ft
At the western end of the sparsely populated Extremadura province, you will find the beautiful city of… continue reading
Air gateway to Andalusia
Malaga is the second largest city in Andalusia. It also famous in the fact that it is the southernmost city… continue reading
Capital of the Balearic Islands
Palma de Mallorca is the capital of the Balearic Islands and has over 400,000 inhabi­tants. Apart from the… continue reading
The city with the largest walls in Spain
|
Altitude: 1 095 m / 3 593 ft
Avila is famous for the largest fortifications in Spain. In addition, there is a large cathedral and a whole… continue reading
Beautiful city on the cliff
|
Altitude: 725 m / 2 379 ft
The city of Ronda, thanks to its picturesque location on a nearly two hundred meters high cliff and… continue reading
Have you been there? Contribute a good advice to travelers who want to go to this area or add places to your visited list.
Do you want to go there? There is nothing easier than having to deal with others and go on a trip or get tips on where you want to go.
Activities
Practical information
Applaud the author of the article!