The best of Portugal cities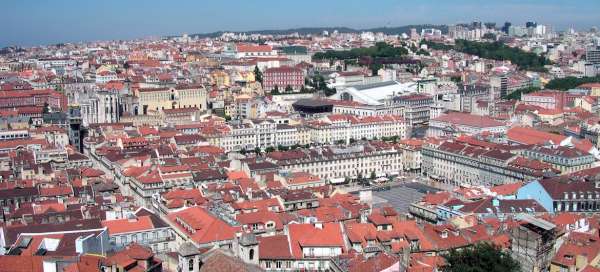 Portugal is famous not only for its beautiful Atlantic coast, but also for its beautiful cities with an interesting atmosphere, bright colors, Azujelos tiles, but also light desolation. Let's take a look at the beautiful Portuguese cities and towns that are definitely worth a visit.
The most beautiful Portuguese city
|
Altitude: 87 m / 285 ft
Porto is the second largest, but the most beautiful portuguese city, with a picturesque location above the… continue reading
The capital of Portugal
|
Altitude: 56 m / 184 ft
The city of Lisbon belongs to smaller European capitals, but if you count the agglomerations, it is more than… continue reading
Portuguese Venice
Aveiro is a seaside town in the north of Portugal. Thanks to the waterways it is called the Portuguese Venice… continue reading
The city of two royal palaces
Altitude: 201 m / 659 ft
Just twenty kilometers west of Lisbon you will find the former summer residence of the Portuguese kings of… continue reading
Romantic portuguese town with castle
Altitude: 824 m / 2 703 ft
Practically on the border with Spain, on the mountain promontory is the beautiful town of Marvão. The main… continue reading
The city with the most famous castle in Portugal
Altitude: 50 m / 164 ft
Óbidos is one of the most picturesque cities in Portugal and at the same time perhaps the most famous castle… continue reading
The village between the boulders
|
Altitude: 658 m / 2 159 ft
In the eastern part of Portugal, a short distance from the border with Spain, lies the village of Monsanto,… continue reading
Village hidden in the hills
|
Altitude: 675 m / 2 215 ft
Piodão is a small village in the central part of Portugal. The terraced alleyways along with the stone walls… continue reading
Town on the cliff
|
Altitude: 35 m / 115 ft
Azenhas do Mar is a picturesque town built directly on the cliff. Within its reach are beautiful beaches and… continue reading
Fortified city at the border with Spain
|
Altitude: 575 m / 1 886 ft
Castelo de Vide is a picturesque historic city just off the border with Spain. The white plastered houses… continue reading
Applaud the author of the article!
Articles nearby