One of the biggest viklans in the Czech Republic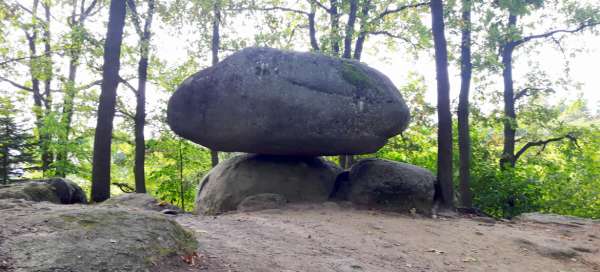 The stone measuring 3.5 × 3.5 × 1­.5 meters and weighing approximately 29 tons is one of the largest wicks in the Czech Republic. We find it on a hill in the village of Kadov less than 8 km west-southwest of Blatná. It is formed by deep igneous rock granodiorite. The small area around the viklan was declared a protected area, a natural monument, in 1985. The oldest written records of the Kadov viklan date back to 1856, but the place has always been considered a prehistoric sacrifice and many legends are associated with it.
Viklan
Viklan is a round rock block, which rests on the subsoil with only one very small area and was formed at the place where it is located. The stones are not moved to a new place by Viklan. Viklany are usually formed by weathering and removal of rocks when less resistant areas are subject to geological influences more quickly. In the Czech Republic, other viklany are found, for example, in the Jizera Mountains, the Giant Mountains and the Bohemian-Moravian Highlands.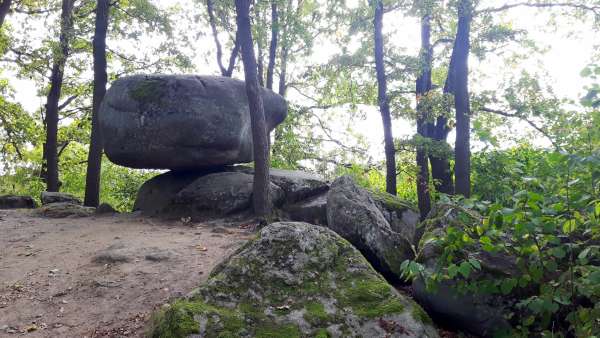 Moving the wick
A round stone in the shape of a lens weighing almost 30 tons rests only a small area on another large stone. Therefore, despite its enormous weight and dimensions, it can be moved with relatively little force.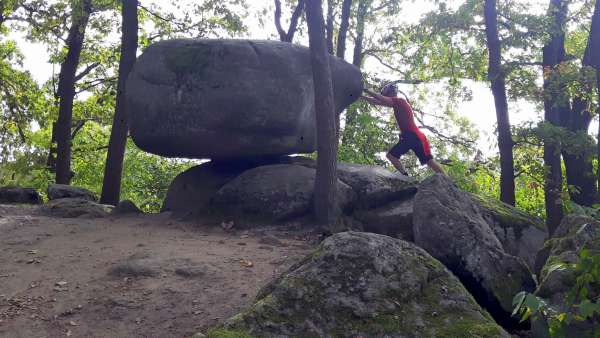 The overthrow of the viklan
Of course, the ability to move a huge stone has attracted attention since time immemorial. It is said that the first people who tried to overthrow the boulder from their bed were twelve dragoons of the cavalry regiment, but they did not succeed. However, the fall took place in 1893.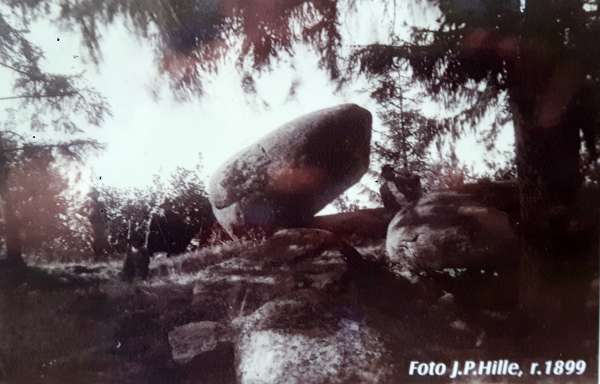 Putting the viklan back
It is interesting that the viklan was returned to its original position by Ing. Pavel Pavel in 1983. Based on this success and experiments with concrete models, he was subsequently invited to Easter Island in 1986, where he was able to move huge moai statues. But four years later, the non-people overthrew the viklan again. The deployment and vandal dropping of the boulder was then repeated. Viklan was last returned to its original position (again by Ing. Pavel Pavel) on May 3, 2003.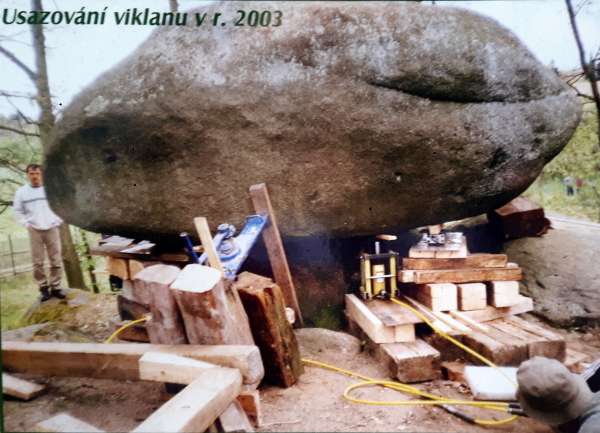 Applaud the author of the article!
Thanks!
Have you been there? Write a review of this place
Already rated by 0 travelers