TOP 5 Bali Temples
List of the most beautiful Bali temples.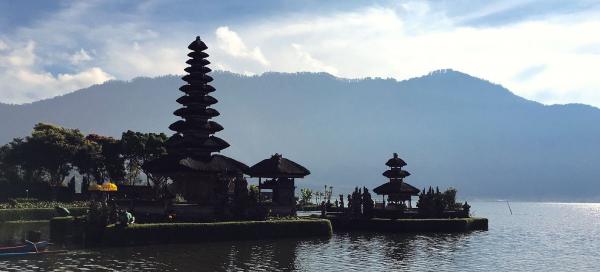 Bali have right to have title "Island of the Gods". In the island are more than 20 thousands temples. Temples are everewhere.
The sea temple on the cliffs
This temple is located on the southern tip of the island of Bali. It is built on high cliffs. This complex is… continue reading
Elephant cave and much more
|
Altitude: 160 m / 525 ft
This temple complex is located in a valley that has been covered by an earthquake. Fortunately, it was… continue reading
The temple that became the symbol of Bali
|
Altitude: 1 245 m / 4 085 ft
Pura Ulun Danu Bratan Temple is located on the shores of Lake Bratan in the Bali Mountains. The complex is… continue reading
The secret temple in the jungle
|
Altitude: 825 m / 2 707 ft
This temple is cut off from civilization and is surrounded by a beautiful jungle under the volcanoes. There… continue reading
The largest temple complex in Bali
|
Altitude: 950 m / 3 117 ft
Pura Besakhi is a vast temple complex, with dozens of typical towers with separate temples. It is located in… continue reading
Have you been there? Contribute a good advice to travelers who want to go to this area or add places to your visited list.
Do you want to go there? There is nothing easier than having to deal with others and go on a trip or get tips on where you want to go.
Activities
Practical information
Applaud the author of the article!