The best on the border of Bohemia and Moravia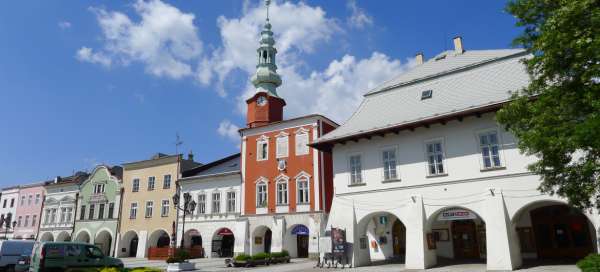 On the border of the historical border between Moravia and Bohemia, there are five picturesque towns that have formed a union and established a tourist and excursion area in the Czech-Moravian borderland. You will find beautiful monuments: the famous castle in Litomyšl, the town hall and fortifications in Polička, the square in Svitavy and Moravská Třebová, the towers in Vysoké Mýto. Definitely each of these cities is worth a visit.
City with a beautiful castle
|
Altitude: 336 m / 1 102 ft
Litomyšl is a small town famous for its beautiful Renaissance chateau, belonging to the unesco list. In… continue reading
City with a picturesque square
|
Altitude: 441 m / 1 447 ft
The district town of Svitavy boasts mainly with its elongated beautiful square of Peace, where you can find… continue reading
City of towers and gates
|
Altitude: 290 m / 951 ft
Vysoké Mýto attracts visitors with its picturesque square Přemysl Otakar II. (The founder of this city) and… continue reading
The town on the Bohemian-Moravian border
|
Altitude: 366 m / 1 201 ft
In the picturesque region of Bohemian-Moravian border you will find the small town of Moravská Třebová. Here… continue reading
A town with beautiful fortifications
|
Altitude: 560 m / 1 837 ft
Polička is famous for its preserved city fortifications – one of the most prestigious in the whole of the… continue reading
Applaud the author of the article!
Articles nearby