The best of Jaipur and its surroundings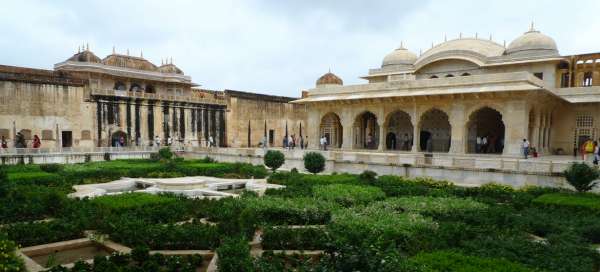 In the capital of the Indian state of Rajasthan – Jaipur, we can find a number of interesting and beautiful monuments. Right in the city is the famous pink palace Hawa Mahal. Just outside the city is the gigantic Amber Fort or the beautiful palace on the island of Jal Mahal. Let's check out the beautiful places in and around Jaipur.
Monumental building near Jaipur
|
Altitude: 473 m / 1 552 ft
Amer (sometimes written as Amber) is not only a city, but also a monumental palace and above it a rising… continue reading
The jewel in Jaipur
|
Altitude: 443 m / 1 453 ft
Hawa Mahal Palace is one of India's most famous buildings. You will find it in the "Pink City" of Jaipur, the… continue reading
Water Palace
|
Altitude: 411 m / 1 348 ft
Near Jaipur you will find the interesting Jal Mahal palace. This palace is built right in the middle of Lake… continue reading
Royal Mausoleum near Jaipur
Altitude: 453 m / 1 486 ft
On the northern outskirts of Jaipur, you can visit the beautiful royal mausoleum Gaitore Ki Chhatriyan. They… continue reading
The biggest palace in Jaipur
Altitude: 438 m / 1 437 ft
The City Palace in Jaipur is among the largest palaces in India. It was built for the Maharajah in the 18th… continue reading
The most important mosque in Jaipur
Altitude: 448 m / 1 470 ft
The most important mosque in Jaipur is the Jama Masjid. It is interesting that it is not built separately as… continue reading
Applaud the author of the article!
Articles nearby