The best of Esztergom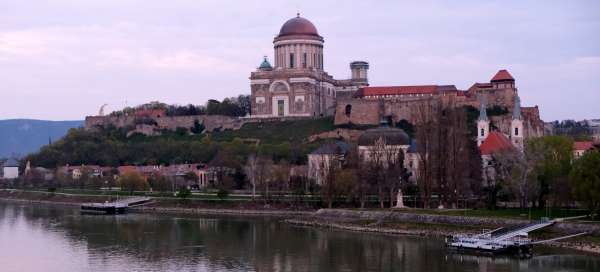 Esztergom, as a historical and at one time the capital of the Kingdom of Hungary, offers a number of interesting sights. With an overview, the biggest attraction is the local cathedral – the largest in all of Hungary. Here we also find a smaller castle, another series of churches and a synagogue. The bridge over the Danube (Márie Valérie Bridge) is also interesting, and as part of modern architecture and tourist attractions, it houses the Aquasziget aqua center.
The largest cathedral in Hungary
Altitude: 151 m / 495 ft
The largest basilica in Hungary is the Cathedral of Our Lady and Saint Adalbert in Esztergom. The original… continue reading
Dominant Széchenyi Square
Altitude: 107 m / 351 ft
The town hall dominates the picturesque historical square of Széchenyi Tér. Exhibited in the Baroque style.… continue reading
House of Culture in Esztergom
Altitude: 110 m / 361 ft
A very interesting monument of Esztergom is the local synagogue. She almost miraculously survived the Second… continue reading
A beautiful church under Castle Hill
Altitude: 107 m / 351 ft
One of the most beautiful churches in Esztergom is the church of St. Ignatius of Loyola. It is located… continue reading
A castle in the shadow of a monumental cathedral
Altitude: 147 m / 482 ft
On the castle hill you will find two monuments next to each other. Of course, the dominant feature of the… continue reading
Border bridge between Slovakia and Hungary
Altitude: 102 m / 335 ft
The bridge is more than 500 meters long and was built in places where both the Romans and the Turks crossed… continue reading
Aqua center in the historic center of Esztergom
Altitude: 107 m / 351 ft
Basically, the modern building of the local aqua center – Aquasziget "Water Island" is located right in the… continue reading
Applaud the author of the article!
Articles nearby