The largest mosque in India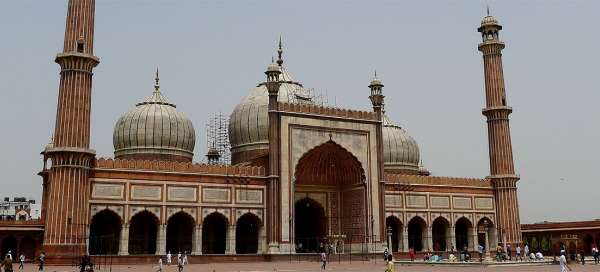 Jama (Friday) mosque is the heart of old Delhi and along with the Red Fort the biggest tourist attraction. It is the best known and largest mosque in India and one of the jewels of Mughal architecture. Its beauty rivals with a few years younger Badshahi Mosque in Pakistani Lahore. In addition, it is possible to climb the minaret and look around Delhi from above.
Ritual cleansing
Once you pass through one of three monumental gates to the courtyard, you will surely enjoy the pool in the center, which is used for ritual washing the feet before entering the mosque.
Jama mosque
Front view of the fabulously beautiful mosque is of course the best of the whole tour. On the sides are two more than forty meters high minarets. It is allowed to ascend to one of them and so you can enjoy the breathtaking view of the surroundings.
Courtyard from the terrace
You can clearly see the entire courtyard with a swimming pool in the middle from the terrace at the minaret. Since it is mandatory to walk here barefoot and red sandstone (from which most Mughal monuments including Red Fort are constructed) gets pretty hot from the sun, the paths are made of wet rags /nightmare of every dermatologist/.
View of the old town
View of the old town only enhances the contrast between fabulous Mughal architecture and very unsightly concrete buildings of contemporary Indian cities.
Monumental gateway
There is a nice view of the monumental gateway and the surrounding busy bazaars from the minaret. On the horizon are visible endless walls of the Red Fort.
Red Fort on the horizon
Due to local smog and humid air it is barely visible to the monumental entrance gate of Red Fort – the seat of Mughal emperors.
Applaud the author of the article!
Articles nearby
Part of itienary
Article:
Seeing Delhi
Most tourists take Delhi only as an arrival and departure place before their travels around India and stay here only the shortest… continue reading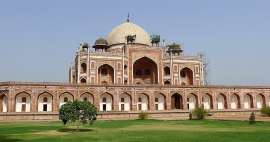 Part of gigalist
Giga List:
The most beautiful trips in Delhi
Delhi is a huge metropolis of northern India, which at first glance, apart from noise, bustle and dirt, does not offer much.… continue reading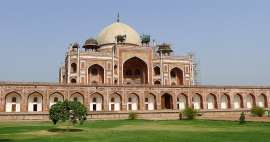 Thanks!
Have you been there? Write a review of this place
Already rated by 1 traveler