The largest reclining Buddha in Bangkok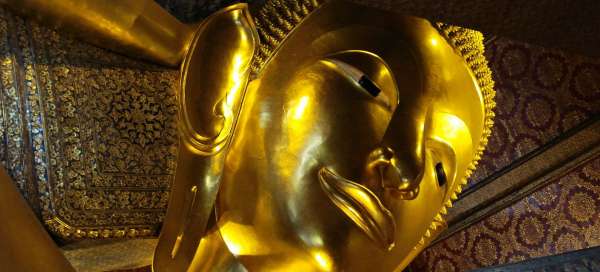 One of the most beautiful temples in Bangkok is undoubtedly Wat Pho with a huge reclining Buddha. In addition to the reclining Buddha, you will find a number of other pagodas, temples and various lakes – the area is really large (300 × 170 meters) and if you do not hurry, you can spend a really long time here
Reclining Buddha in Wat Pho
We started the tour at the northeastern end of the area with the biggest local attraction – the reclining Buddha. It is really a colossus and it is interesting not only for its size, but also for its beautifully decorated feet.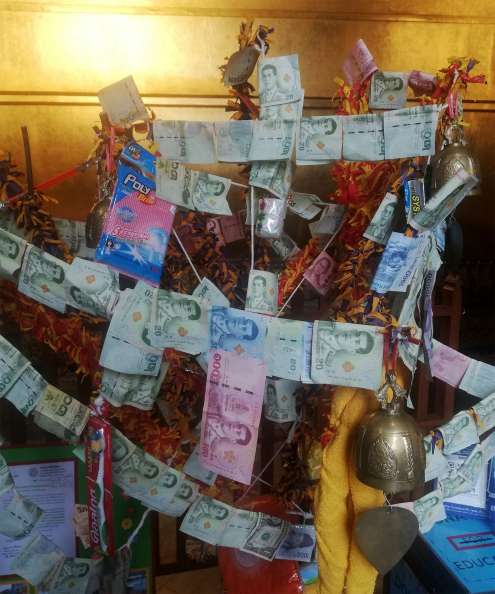 Even the gods love money
The reclining Buddha basically occupies the entire center of the building, but it can be bypassed. Behind him are various altars, where money is left, both banknotes and a bowl of crumbs can be bought (for 20 BHT), which you can also empty somewhere. The Thais thus fulfill the norm of good deeds, and the monks or the temple have something to live on
Phra Mondob
Right next to the Lager Buddha pavilion is the beautiful Phra Mondob, at the time of our visit 2/2020 it was reconstructed, so the view is only from the outside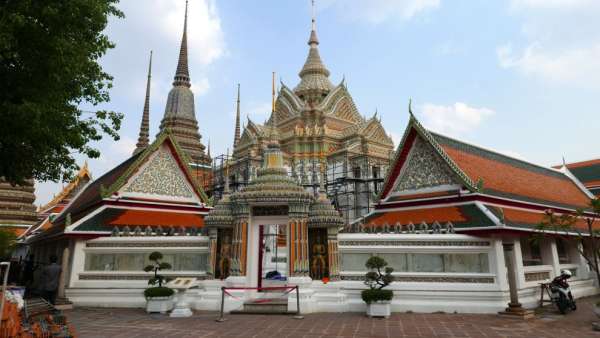 Suan Misakawan
Another dominant feature of the western part of the Wat Pho complex are the four huge, beautifully decorated paganas of Suan Misakawan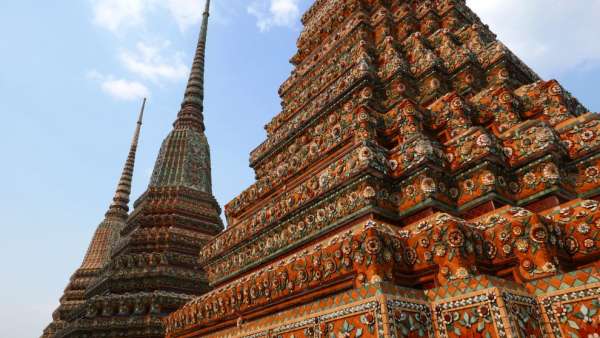 Temples and pagodas
We are moving slowly to the eastern part of the complex, where there is an incredible number of different sacral buildings that are around the central temple of Phra Ubosot.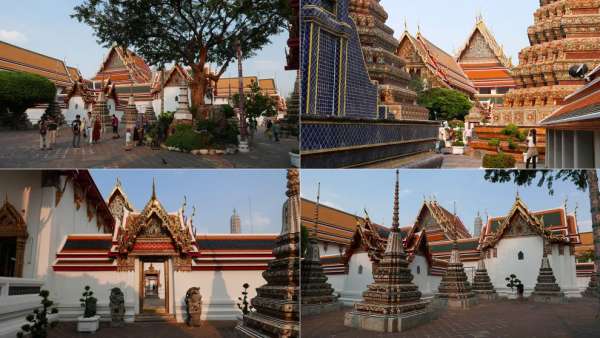 Interiors of temples
In the interiors of individual temples you will find hundreds of gilded statues of Buddhas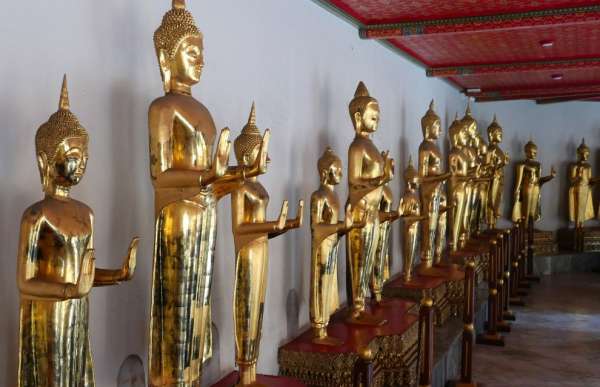 At the central temple
The dominant feature of the entire eastern part is the massive central temple of Phra Ubosot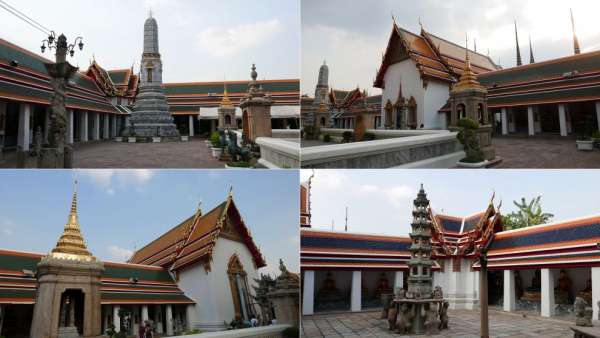 Resting places
Apart from various temples, you will find a lot of so-called "resting" places to calm you down and slow you down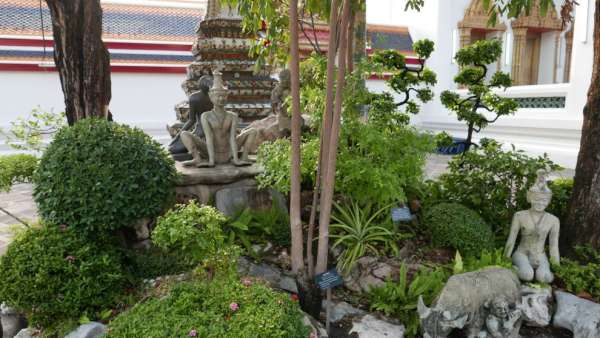 East end of Wat Pho
The eastern end of the Wat Pho temple is interesting throughout the "forest" of smaller pagodas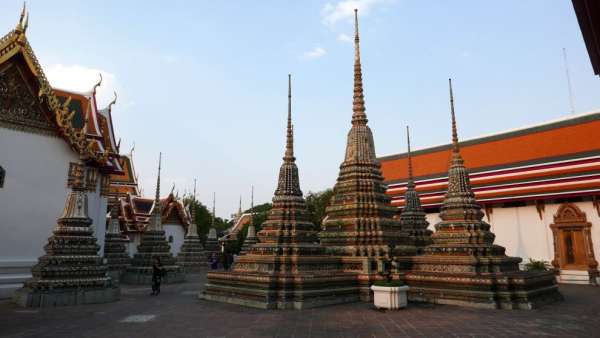 Early evening at Wat Pho
On our second visit we were here before sunset and it had an interesting atmosphere. Even from the outside, the temple is interesting to look at. Anyone visiting Bangkok should definitely not miss Wat Pho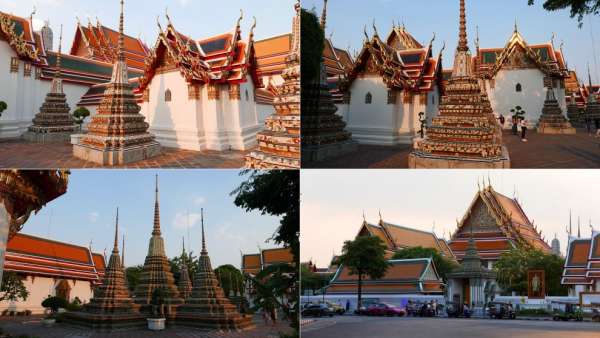 Applaud the author of the article!
Part of gigalist
Giga List:
The most beautiful trips in Bangkok
Bangkok is a huge metropolis full of beautiful Buddhist temples. This is the main thing you can visit here. In addition, river… continue reading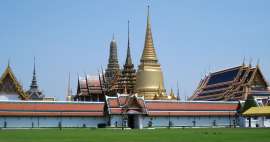 Part of itienary
Article:
Tour of Bangkok
Bangkok as the main and largest place of Thailand offers a lot of interesting sights and places to visit – mainly Buddhist… continue reading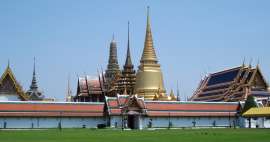 Thanks!
Have you been there? Write a review of this place
Already rated by 2 travelers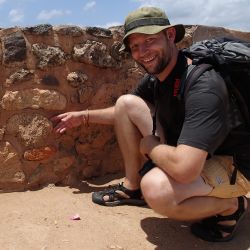 Opravdu parádní chrám, a díky rozlehlosti nepůsobí tak přelidněně, člověk si prostě najde svůj klidný koutek...