Less visited part of the island full of monuments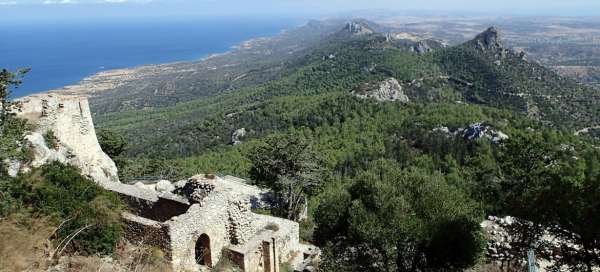 After the partition of Cyprus, tourism in the north controlled by Turkey almost disappeared. Although it has started to develop more strongly in recent years, there are still plenty of deserted places in the increasingly popular Northern Cyprus. Long, mostly sandy beaches are also attractive. The island has a number of important ancient and ancient monuments.
A rich old town surrounded by massive walls with Otel Castle
Altitude: 10 m / 33 ft
The old town of Famagusta will appeal to almost everyone with its architecture, monuments and, above all, the… continue reading
One of the most impressive archeological sites in the world
Altitude: 6 m / 20 ft
About 7 km north of the center of Famagusta is an extensive archeological site. It is a complex of ancient… continue reading
The most deserted part of Northern Cyprus
Altitude: 104 m / 341 ft
After the violent partition of Cyprus in 1974, tourism in the north controlled by Turkey almost disappeared.… continue reading
The ruins of a crusader castle with stunning views
Altitude: 583 m / 1 913 ft
About 60 km northeast of Nicosia, at the beginning of the Karpaz Peninsula, is one of the three crusader… continue reading
Preserved monastery and tomb of St. Barnabas
Altitude: 12 m / 39 ft
Just a few kilometers north of Famagusta, on the southernmost edge of the Salamis archeological site, in the… continue reading
An important port with a medieval castle
Altitude: 17 m / 56 ft
The city of Girne (Greek: Kyrenia) is located in the middle of the northern coast of Cyprus. In ancient times… continue reading
The scene of Shakespeare's famous tragedy
Altitude: 3 m / 10 ft
On the coast of Famagusta, a beautifully restored fortress, called the Othello Citadel, rises above the… continue reading
The capital divided between the two states
Altitude: 149 m / 489 ft
Nicosia (Turkish Lefkoşa) is located approximately in the center of the island and is the capital and largest… continue reading
A stately resort transformed into a ghost town
Altitude: 15 m / 49 ft
Famagusta is a well-known and very popular tourist area. In addition to the historic city, there are a number… continue reading
The most beautiful beach in Cyprus
Altitude: 1 m / 3 ft
Almost at the tip of the Karpaz Peninsula, on the southern coast, there is a deserted two-kilometer-long… continue reading
A typical peaceful town with a large Greek minority
Altitude: 165 m / 541 ft
The town of Dipkarpaz (Greek Rizokaprpaso) is the northernmost town in Cyprus and the gateway to the Karpaz… continue reading
Applaud the author of the article!