The most beautiful markets in Delhi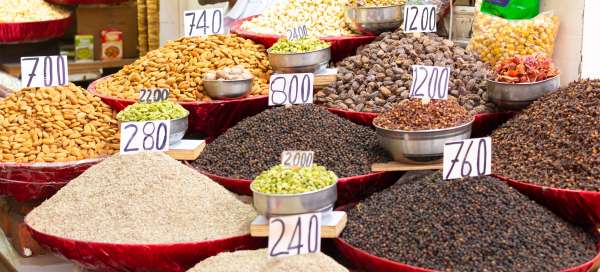 The gateway to India, but also from India, is Delhi. Explore the best markets in Delhi. You can buy here original souvenirs, spices, but also cheap clothes and accessories.
Market of spices, flavors and colors
|
Altitude: 225 m / 738 ft
One of the most interesting markets in Delhi, where you will find spices, nuts, dried fruits, as well as many… continue reading
Quality goods from all over India
|
Altitude: 266 m / 873 ft
A market that is allegedly operated and controlled by the government. You can find goods from all over India… continue reading
Market with very cheap clothes
|
Altitude: 222 m / 728 ft
A popular market where you can find really cheap clothes. Shirts, T-shirts, blouses, jeans from USD 2 and if… continue reading
The main bazaar in the tourist center of Delhi
|
Altitude: 223 m / 732 ft
Paharganj is the main tourist center of Delhi and there is also a large bazaar, which is actually part of the… continue reading
Applaud the author of the article!