Typical African town with a colorful mar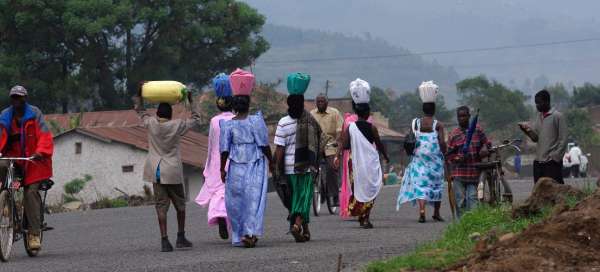 The town of Kisoro is located just a short distance from the border triangle of Uganda, Rwanda and the Democratic Republic of Congo. It is not only the crossroads, but also the perfect starting point to Mgahinga National Park, which attracts tourists to observe critically endangered mountain gorillas. They live only in this area of volcanic mountains. But the town itself is magic, because it lives a typical African life. So if you have a free afternoon, it is worth to set out to the local market or simply observe life, which is for non-African traveler somewhat unusual.
The main street in Kisoro
The main street splits in the middle of town and forms a kind of square, which is lined with shops and little hotels all around. There is no problem to find accommodation or food at a reasonable price or to arrange a trip to Mgahinga National Park or to any other volcano in the area.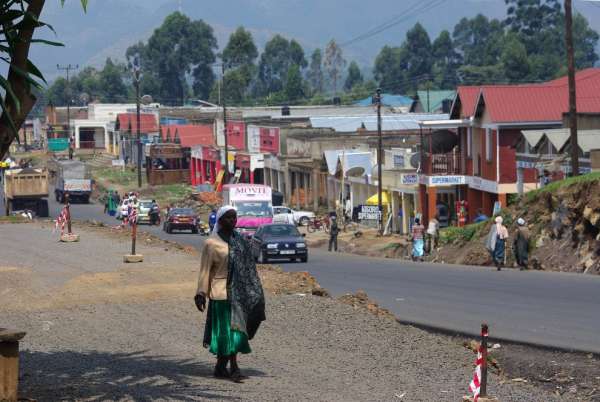 In the center of Kisoro
On the square, there are, in addition to shops, garbage that are taken up by local animals. There are plenty of them, because Kisoro has rather a rural character.
 
Boda-boda
In addition, mototaxi park here, which are by locals called "Boda-boda". The ride is usually for a few bucks, even though for a white tourist it is usually worth to haggle. So you can get almost anywhere in the vicinity in a few minutes.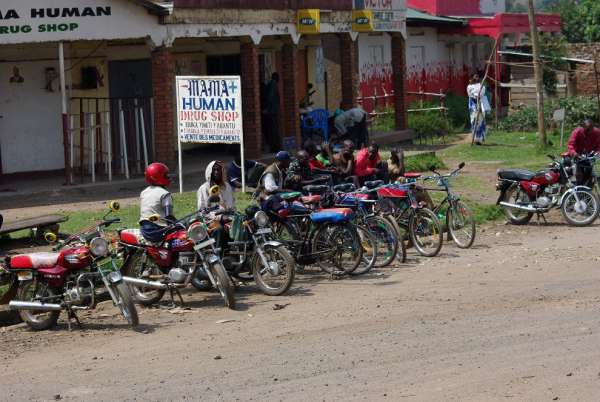 Road to the market
The main road splits on one side of Kisoro towards either the border with Rwanda or Congo, and to the other side it leads eastwards to the town of Kabale. In the east end of Kisoro is a market with crowds of people. From the center of town you can drive here by a motorcycle or walk in about 10 minutes. An interesting fact about this road to Kabale is that it crosses the runway of local airport about 2 km behind the town.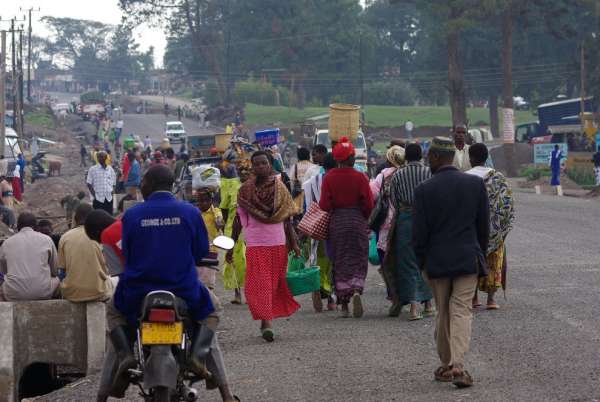 At the market
The market itself is inside a kind of circular, there are several entrance gates, but they are somehow outside of this building. It is possible to get here a lot of things such as food or clothing and typical for Africa is that the market plays with a variety of cheerful colors.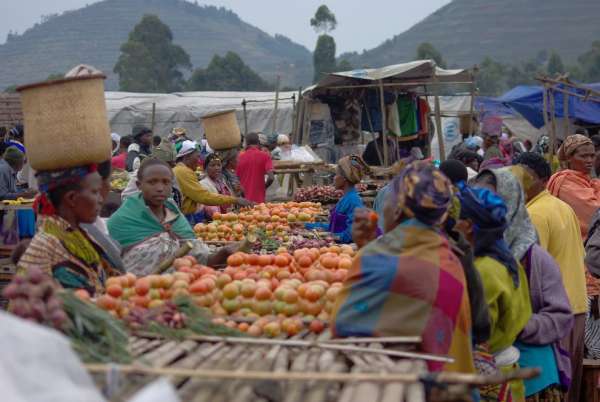 The market
Locals sell here not only vegetables, but also fish and meat. White tourists will probably draw some attention here. Caution is especially necessary when taking photos as people not always like being the object of your interest.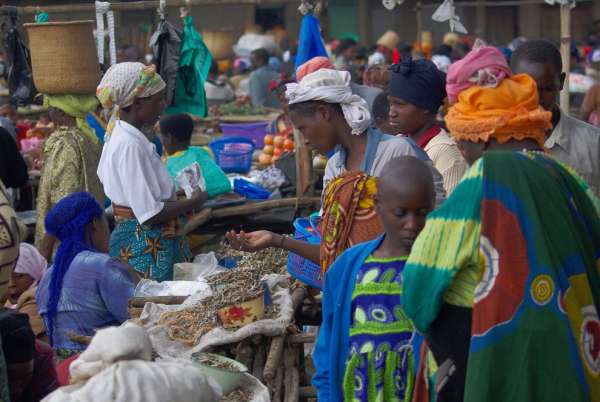 Behind the gate
Outside the main market building are sold mainly bulky items such as bunches of bananas or sugar cane.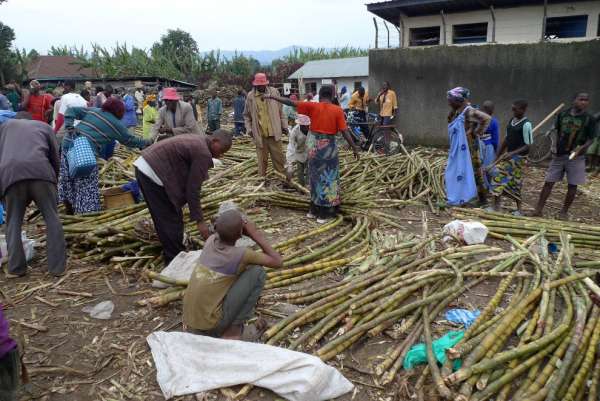 Bananas
Typical for Uganda and other African countries are huge bunches of bananas. These huge green bananas are used rather as a substitute for potatoes and even taste like them. These bunches of significant weight are generally transported on bicycles, on which locals can take up hardly believable cargo.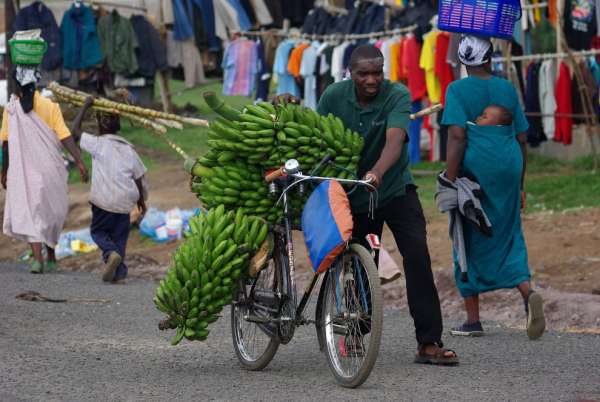 Shower
If you are lucky and a quick shower comes, you will then see the rush in the market when all the sellers pack and cover their goods. This is the moment that a photographer can enjoy. Frequent business article here is charcoal.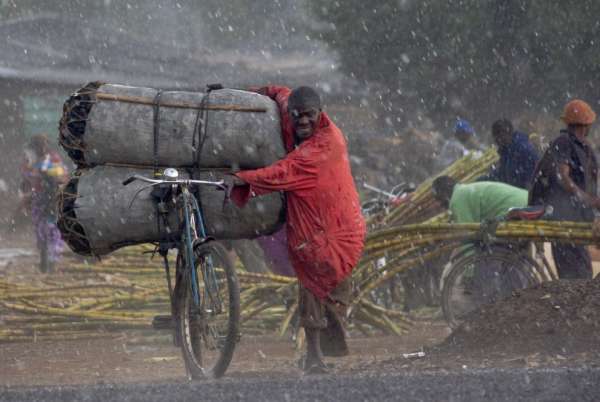 On the way from the market
The most common and affordable means for transporting small cargo in Africa is on the head. Local women (but also men) bear here this way various things.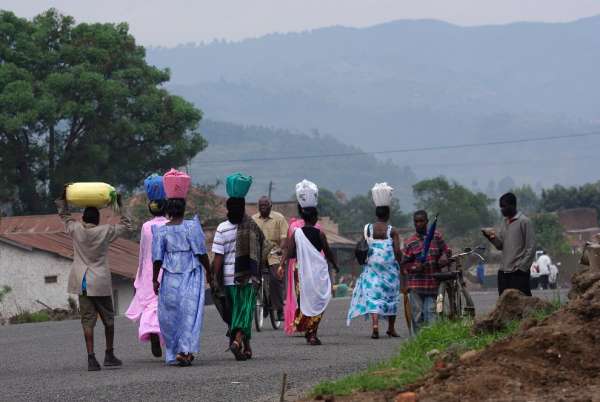 Carrying the shopping
Local women bear their shopping (and also shapeless) on their head with ease and grace.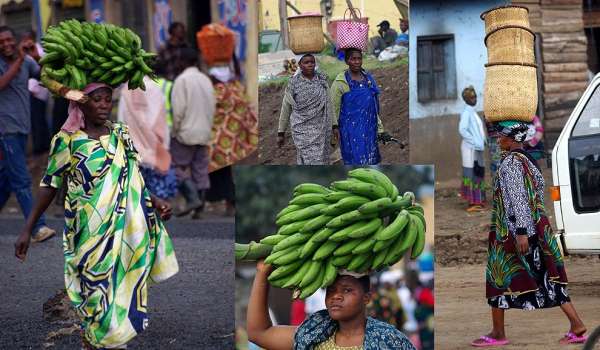 Applaud the author of the article!
Part of itienary
Article:
Tour of Kenya, Uganda and Tanzania
If you are already going to Equatorial Africa and you have about three weeks of time, it is not wrong to make a circuit around… continue reading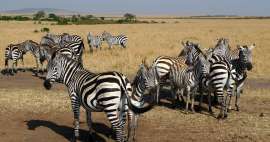 Part of gigalist
Giga List:
The most beautiful trips to the southwest of Uganda
Southwest Uganda offers the best you can visit in this country. High mountains, volcanoes and beautiful national parks allow you… continue reading
Thanks!
Have you been there? Write a review of this place
Already rated by 0 travelers